Solar EVA Encapsulant Use Triallyl Isocyanurate, crosslinking agent TAIC, 1025-15-6 High Quality Chemical Additive
Product Description
Solar EVA Encapsulant Use Triallyl Isocyanurate,
Crosslinking Agent Taic
, 1025-15-6 High Quality Chemical Additive                 Chemical Name:        Trially Isocyanurate CAS No:                      1025-15-6   EINECS No:                213-834-7 Molecular Weight:    249.27 Molecular formula:   C12H15N3O3       Description: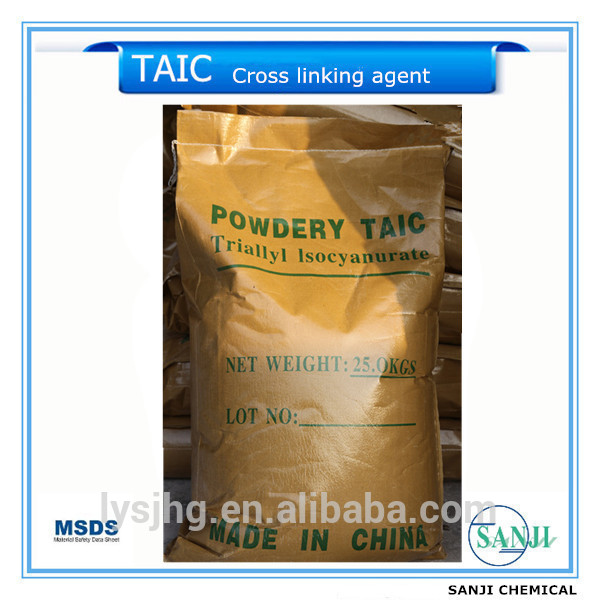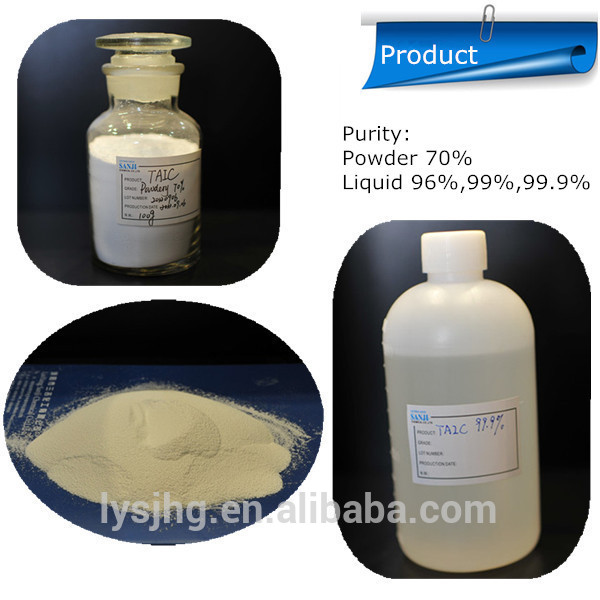 TAIC is a symmetric polyfunctions triazine compound which has been used for
Crosslinking
reaction of synthetic rubbers and plastics as well as a raw material for
Flame Retardant
, it provide a polymer with improved properties including heat resistance, mechanical properties and resistance to hydrolysis and weathering.         Properties:                                                                                                                                Heat resistance Mechanical characteristics Hydrolytic resistance Weather resistance
TAIC'S APPLICATIONS: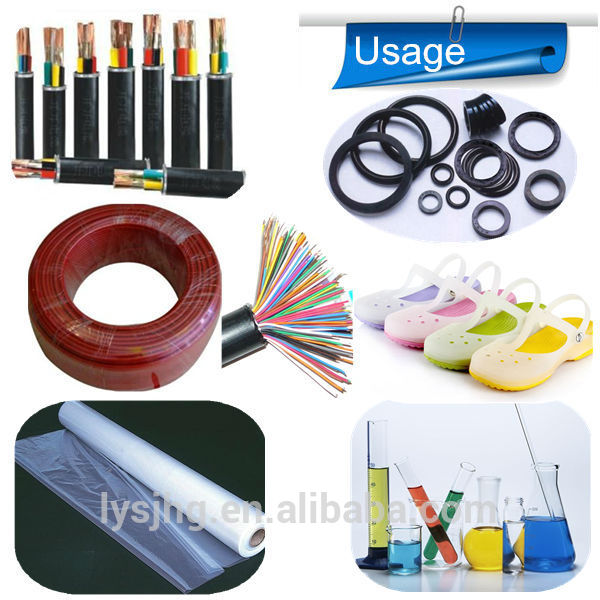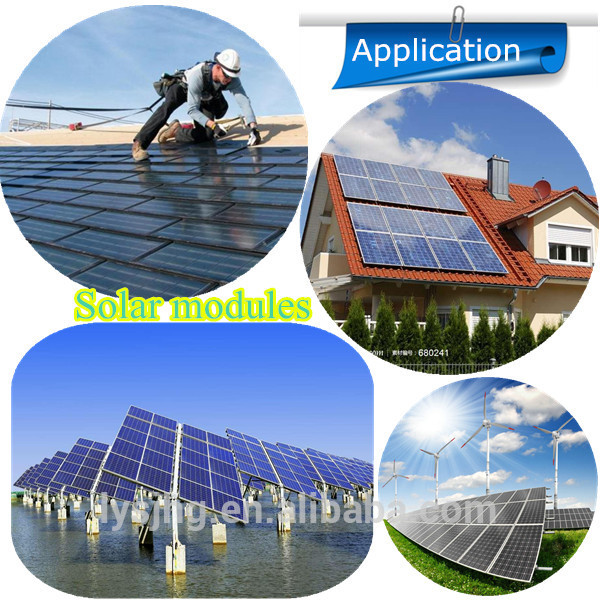 1.    For PV film: As EVA encapsulation provides physical isolation of the solar cell and the circuit components as well as structural support and positioning of the solar cell circuit, in order to get the necessary structural stability, the crosslinking process of EVA installed film is significantly improved by using TAIC as crosslinking additives in it with the following advantages:          - Reduction of cure time/ cost saving        - Increased gel content/ crosslinking degree        - Improved transparency        - Improved color stability due to shorter cure times             2     TAIC is a crosslinking modifier to a variety of thermoplastic plastics such as LDPE, PVC, CPE, EVA, PS etc; TAIC is widely used to produce cables for example;   3.    TAIC is an assistant vulcanizing agent for rubbers (ethylene propylene rubber, fluorine rubbers, CPE etc.). TAIC can significantly shorten its vulcanizing time, increase intensity, abrasive resistance, solubility, and corrosion resistance;       4.    TAIC is a
Crosslinking Agent
for acrylic;   5.    TAIC is a modifying agent for polyacrylate and poly alkyl acrylate etc., it can provide product a good thermostability, optical performance and processing performance. For this, it is mainly used to improve heat resistant property for plexiglass;     6.    TAIC is a modifying agent for epoxy resin, DAP etc., which can increase product's thermostability, adhesive property, mechanical strength, and dimensional stability. It is mainly used at epoxy resin potting and encapsulating materials;      7.    TAIC is a crosslinking modifier for unsaturated polyester and thermoplastic polyester; it is mainly used to increase the thermostability of hot pressing type unsaturated polyester FRP prodcuts;      8.    TAIC can be used to produce multiplex multilayered safety glass;   9.    TAIC is also a raw material for insulating use, it can be used to produce printed circuit board etc.         Specification:                                                                                                                                        
| | | | |
| --- | --- | --- | --- |
| Products | TAIC-A | TAIC-B | TAIC-P |
| Grade | Refined | Normal | Powder |
| Appearance | Clear Liquid or Crystal | Clear Liquid or Crystal | White Powder |
| Hue (Pt-Co) | <50 | <150 | / |
| Active Content | ≥99.0% | ≥95.0% | 65%-67%, the other content is SiO2 |
| Acid val. (mgKOH/g) | ≤0.2 | ≤0.3 | / |
| Melting Point (℃) | 24-26 | 17-21 | / |
| Viscosity (30℃) | 83+3cps | 81+5cps | / |
| Spec. Gravity | 1.15-1.17 | 1.10-1.17 | / |
| Volatile (%) | <0.1 | <0.1 | <0.1 |
| Bulk Density (g/cm³) | / | / | 0.38-0.48 |
| PH | / | / | 6.0-7.0 |
      Company Show: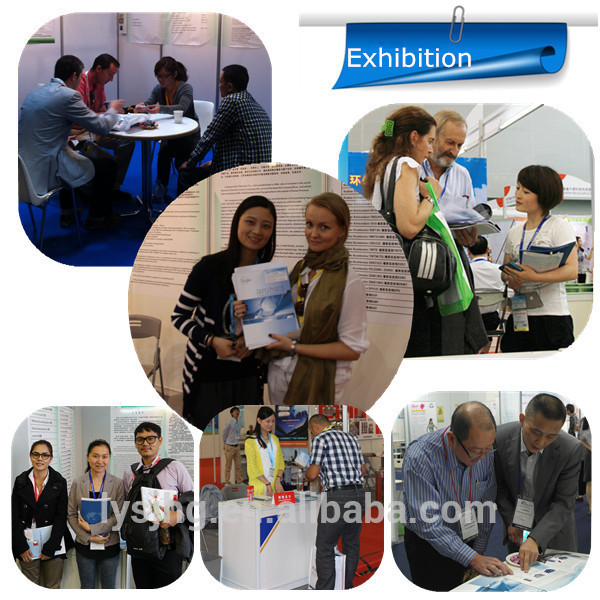 FAQ:                                                                                                                                                        1. Stock      Stored and transported as non-dangerous goods. Stored at cool and ventilate place, and avoid high temperature.     2. Samples       Please contact our sales representatives for immediate or quick delivery.       Company Information:                                                                                                                            Liuyang Sanji Chemical Trade Co., Ltd was established in 2004, located in the city ofLiuyang, Hunan Province of China, which is famous for the fireworks around the beautiful LiuyangRiver. It enjoys advantageous geographical position with 60km away from Changsha, the capital city of HunanProvince, convenient in traffic and advanced in industrial technology.    Our company is the professional manufacturer and distributor of Crosslinking Agent TAIC, TAC, DCP, BIPB,
Flame Retardant Agent
and serial chemical additives with experience for ten years in the industry. The crosslinking agent we made is mainly used in High Polymer materials (rubber and thermosetting resin), which is a kind of substance can result into polymer cross-linking reaction, normally for organic peroxideduring melting process of polymer.     We are always keeping the managing goal as "Quality firstly, credit firstly, mutual benefit". We will always provide the tangible benefits, the newest technology, the quickest transportation, the most flexible distribution method and the best after-sales service, to enter into business with you in the future!     Contact Us:                                                                                                                                            Jolie Lee (Ms.)           Add: B1206, Centra Park Building, Middle Jinsha Road, Hunan, China   Tel: 86-731-83616112       Fax: 86-731-83668688    Cell phone: 86-18673105714   Skype: jolie3737   Contact us if you need more details on Photovoltaic Cell Film. We are ready to answer your questions on packaging, logistics, certification or any other aspects about Photovoltaic Cell Film Chemical、Pv Film Chemical. If these products fail to match your need, please contact us and we would like to provide relevant information.
Product Categories : Chemical Triallyl Cyanurate